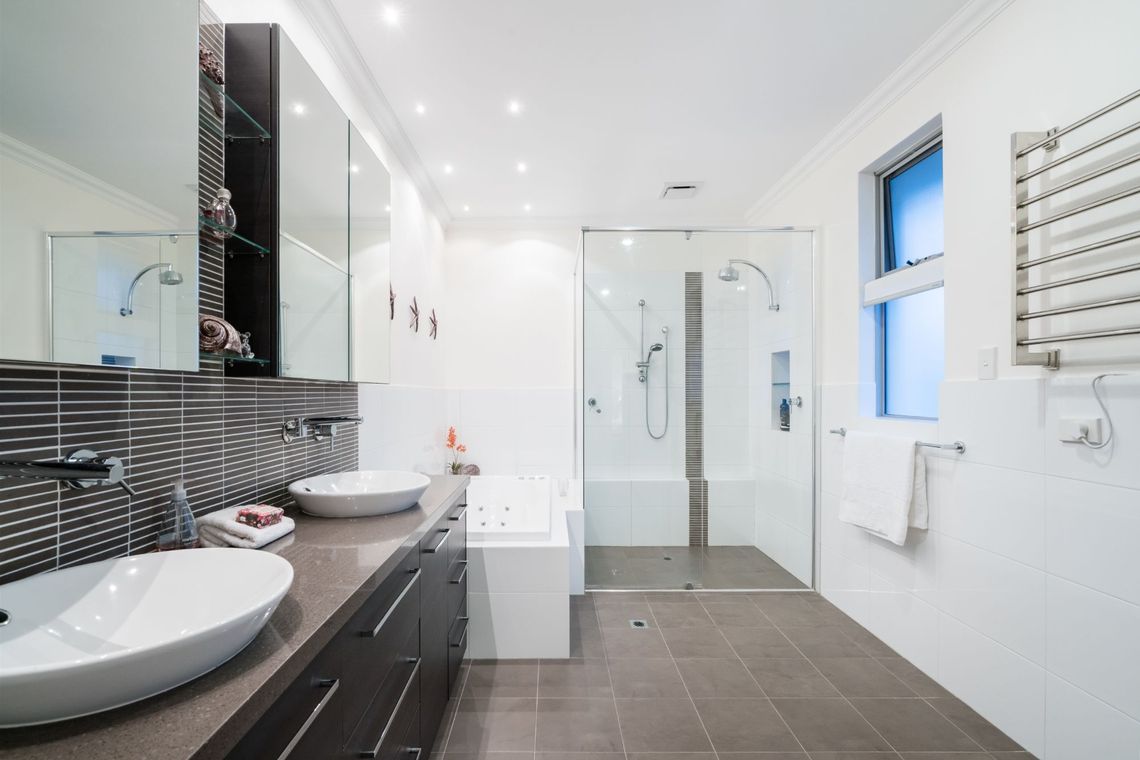 Bathroom remodeling is an exciting and fun home project to take on, and an activity you may be considering now that we've been spending more time at home. In order for your bathroom renovation to go smoothly and stay within budget, it requires a clear plan and established design. A bathroom makeover may be just what your home needs, whether you're living in Cape Cod or the surrounding areas. Check out Cape Property Pros' insight and tips.
Bathroom Remodeling Ideas for Small Spaces
In a small space like a bathroom, every detail matters: The right wall color, tilework or lighting can transform a dull, dated bathroom into a bright, stylish retreat. It all comes down to making the most out of what you have.
Deciding what to do with your small bathroom space can be fun and exciting project for those that love design and home improvement. For those that struggle with creativity or that lack artistic flair, coming up with great design ideas for a small bathroom space can be a challenge. Luckily, working with a professional bathroom designer can make this part of the process easy. In either case, whether you're a creative or not, here are some great ideas that you can use to begin dreaming up the perfect bathroom style for your home's smaller bathroom.
Whether you can afford a full-scale bathroom remodel or you only have the funds for a few cosmetic touch-ups, there are a few things you can do to make your bathroom look much bigger than it actually is. Below Cape Property Pros share 8 of them.
Making Small Bathrooms Look Bigger
Floating Vanities – Minimalist and modern, floating vanities take up less space and can make the entire bathroom seem less crowded and larger. Freeing up the floor opens up a bathroom, creating more visual space and room to improvise.
Floating Toilets – In the same vein as floating vanities, floating toilets can make your bathroom appear larger than it is. Wall mounted toilets eliminate the need for a bulky tank and frees up much needed square footage. Bonus to freeing up all this floor space, showing off your updated flooring!
Bath Conversion – Removing a large, unsightly bathtub and replacing it with a sleek shower installation can add space and functionality to a tight bathroom layout
Recess Cabinets – These built-in structures rest inside your walls and provide you with ample storage space-all while keeping smooth lines across your bathroom walls
Pocket Door – Avoid the "small bathroom shuffle" of navigating around an open door in your small bathroom by switching to a sliding door. Pocket doors tuck away into the wall, allowing room to shift bathroom fixtures closer to the entrance. Barn doors also free up space while adding a rustic aesthetic.
Glass Shower Door – Clear glass shower door turns the shower into an extension of the rest of the bathroom rather than cutting it off the way a curtain or half wall might. If your remodeling plans allow, consider changing out a tub for a standing shower, and opt for a shower with glass sidewalls as well as a clear glass door. Replacing walls and shower enclosures with glass will also allow light through while visually opening up the space.
Mirror a Wall – Rather than just hanging one above the vanity, consider mirroring a whole wall of your tiny bathroom. The reflection of light and pattern (and, sometimes, that open door) will do the same good work a window does.
Backlight the Mirror – This can be a chic and modern way to amplify light, if you do not have room for sconces or simply want a more minimalistic look.
Bathroom Remodeling Ideas for Large Spaces
Renovating a large bathroom can also be quite tricky. Just because you have the space to spare in a big bathroom doesn't mean you can place your fixtures just anywhere, or add any extra amenity to the mix. Careful planning is always required for any bathroom remodeling project—whether the space is large or small.
A professional bathroom designer can help you come up with the best ideas for your unique bathroom layout. Whether you're adding in a new fixture, replacing an older one, or trying to reconfigure the layout of your entire bathroom to make it more functional or aesthetically pleasing, professional advice from a legitimate company is always your best bet.
In any case, here are some of the newest and most innovative ideas that Cape Property Pros will share for remodeling a large bathroom:
Shower Bench – Make your walk-in shower stand out with custom seating. A built-in shower bench is a great way to improve the luxury of your bathroom while also getting more in-shower storage. In addition, it makes your bathroom more accessible for future buyers.
Add a Soaking Tub – With free-standing tubs, homeowners can create a luxurious, spa-like experience in their master bathroom remodels.
Double Up on Sinks – Looking for master bathroom remodel ideas? If you only have one sink currently, add another! This will create more counter space, helping to eliminate some of the morning chaos that comes with a shared bathroom. This renovation is also sure to add value if you decide to sell your home!
Install a Makeup Vanity – Make your master bathroom remodel one of a kind by creating a custom spot to get ready! A built-in makeup vanity will provide ample counter space for storing perfumes, lotions, and skincare products. Whether it's between two sinks or standing on its own, you can solve bathroom storage problems by making your current vanity longer!
High-Tech Super Toilet – high-tech toilets are engineered for comfort, convenience, cleanliness, and sometimes just plain fun. Available in a range of prices and styles, some innovative features to look for when you're shopping for a new toilet are: comfort stool height,  dual-flash action, heated seats, integraded bidets, motion activated seats, automatic deodorizer and no-touch flush.
Maximize Natural Light – Natural light never goes out of style! Brighten and modernize without creating privacy concerns by installing a skylight. Tempered or stained glass windows are also great options to make getting ready easier while ensuring your bathroom stands out!
Spa Bathroom Upgrades – Improving your master bathroom? One of the biggest trends that's been popular for decades is transforming the master bathroom into an area of relaxation and pure luxury. Think of a spa tub addition, a beautiful glass enclosed shower, a couch area for lounging, and an oversized mirror with LED mood lighting for different needs.
Wet Rooms – Instead of a shower stall, consider separating your giant bathroom space into two separate rooms—the vanity and toilet, and a wet room with a beautiful glass door that opens up to an open shower and bathtub area.
Sauna or Steam Room – An ultra-luxury touch we love is building a sauna or a steam room construction right into your large bathroom space. While this addition isn't exactly the most inexpensive option on the list, it can add serious value to your home—while providing an enormous opportunity for rest and relaxation, right in the comfort of your own home.
Start with these ideas to rethink your bathroom, big or small! We're always coming up with more tips to make the most of your space.
At Cape Property Pros, our experts can help you design and build the ideal bathroom for your Cape Cod home. As an experienced, top-rated bathroom remodeling company we've handled countless renovations, transforming old out-dated spaces into fresh and relaxing new bathrooms for many homeowners.
Request a free in home or online consultation with one of our bathroom remodeling contractors to see how you can implement these ideas to create your ideal bathroom. To discuss your renovation goals call Cape Property Pros at 508-292-1562 or contact us online.