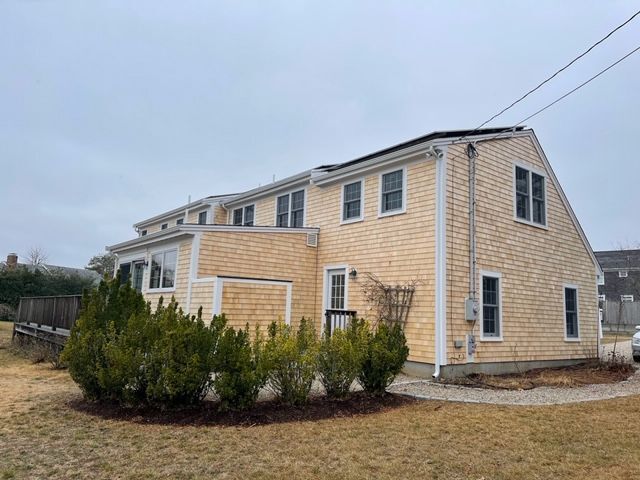 Your siding speaks volumes, and it is one of the most important features of any beautiful home. The need for a professional siding contractor cannot be overemphasized because of its invaluable benefits. This is why you need an experienced siding contractor like Cape Property Pros for all your siding projects. You will be learning everything you need to know about siding to help you make better decisions for your next project.
How To Choose Experienced Siding Contractors In Cape Cod
There are many things to consider when looking for a siding contractor in Cape Cod, and it might seem daunting. If you are planning on renovating your home's siding, you should consider:
Go local: If you are looking to save time and oversee better communication, you need to hire a local siding contractor. Not only are local contractors more accessible, but they also know what is best for your home in Cape Cod. A local contractor would also take your project as a priority and give more attention to your needs.Experience: Choose contractors with several years of experience because they are more trustworthy and reliable. Their extensive knowledge and expertise on the job will make your siding installation or replacement go smoothly.Choose professionals: One way to guarantee quality siding installation or replacement is opting for a licensed and insured company. This way, you can rest assured knowing that you are getting high-quality siding.
Also, professionals take extra care to make your home clean and with minimal inconvenience when renovating your home. With high-quality craftsmanship and a pool of resources, and the latest technological innovations, you can never go wrong by choosing a professional siding contractor for your home project.
Check out ratings: One of the best ways to be sure you are picking the right siding contractor is to see what others have to say about them in their reviews and testimonials. You should aim for a 100% customer satisfaction guarantee when checking Google, Houzz, or any other reliable rating system. Price: Getting your desired pricing at the right price can reduce your home improvement project's stress. Avoid companies that give you extremely low prices that are too good to be true because they usually disappoint. Rather, you should go for quality siding at reasonable prices. Your siding contractor should provide you with a detailed quote that includes the cost of materials, labor, and any other charges.
Siding Types
How to select the best siding materials?  Siding contractors in Cape Cod handle several types of materials, but the most important ones are:
Vinyl: Vinyl is mostly used for commercial purposes. Many people adore it because of its low maintenance and variety of styles. You do not need to repaint vinyl. The classic material is easily the most affordable in the market. Most older vinyl models have evolved to a more modern look with many more upscale colors and styles.Fiber cement/Hardiplank: Just like the vinyl, it required little maintenance. Its fiber cement material is extremely durable and non-combustible. The luxury material has a wooden look and color variety that makes it look classy.Composite siding: Wood composite material has rapidly become popular as a siding option due to its luxury feel. Also, its active protection against moisture and cost-effective pricing makes it a great alternative to fiber cement. Natural White Cedar Siding: Its natural origin and affordable price make it a favorite option for many people. The material is initially light yellow but subsequently fades with age to a darker color.Stained White Cedar Shingles: Up to 20% of Cape Cod houses use this siding variety because of its durability and range of styles. Cedar is a renewable resource, so it is an excellent option for homeowners looking to go "green."
Siding Benefits
Your siding shows people your taste for aesthetics, and it comes with numerous practical positive points. Some of the most important siding benefits are:
Improved curb appeal: A chic and colorful siding easily transforms your home and curb appeal. Though siding installation is not exactly cheap, it comes with many more benefits than people know.
It not only makes your home remarkably beautiful but also protects it against harsh weather elements. Also, since siding installation allows you to add your favorite accents and new trim, the result can only be exceptional. Who says you cannot give your exterior a facelift?
Increase in the value of your home: Your home is perhaps your biggest investment, and siding is one of the major upgrades done to boost the value of a home. In fact, new siding increases properties' value by as much as 80% of the project price, making it one of the most appealing home remodeling tasks. So, if you are looking to sell your home sometime in the future, you should consider siding.Incredible energy efficiency improvement: Since new siding wraps around the house, seals air leakages, and provides additional insulation, it reduces the energy demands and makes your property more energy-efficient. Many clients have praised professional siding contractors in Cape Cod because of their reduced energy bill after the project.  Maintain the structural integrity of your property: Siding helps you to identify potential problems early enough. Many homes have problems with water leakage, mold infestation, and rot under their siding.Siding replacement is a great way to prevent further damage to your house because it addresses all of these problems inside out and helps you save money in the long run. If you want to enjoy a low-maintenance exterior, you should consider siding your house.
Now that you know the major benefits of siding, the next thing is for you to understand when siding replacement is needed.
When To Replace Your Home's Siding
It might be time for siding replacement when you notice any of the following on your home exterior walls:
Some older siding materials discolor over time and lose their appeal.
Surface cracks
Water Stains
Bubbling Paint
Peeling or rotting
Presence of molds
Presence of tiny holes
Sagging paneling
CAPE PROPERTY PROS—Professionals You Can Trust!
We essentially do everything in our homes, from raising families to celebrating special moments and creating memories. New siding is a worthy investment for any homeowner, and with the right home improvement company and siding contractor like Cape Property Pros, you can rest assured knowing that you are in safe hands.
We install the best trim and siding products for your utmost satisfaction. Your home deserves to look beautiful and solid, and you can get this satisfaction by hiring a professional siding contractor. So are you looking for a professional siding company in Cape Cod?
Contact us or submit our online form and schedule a free consultation now.