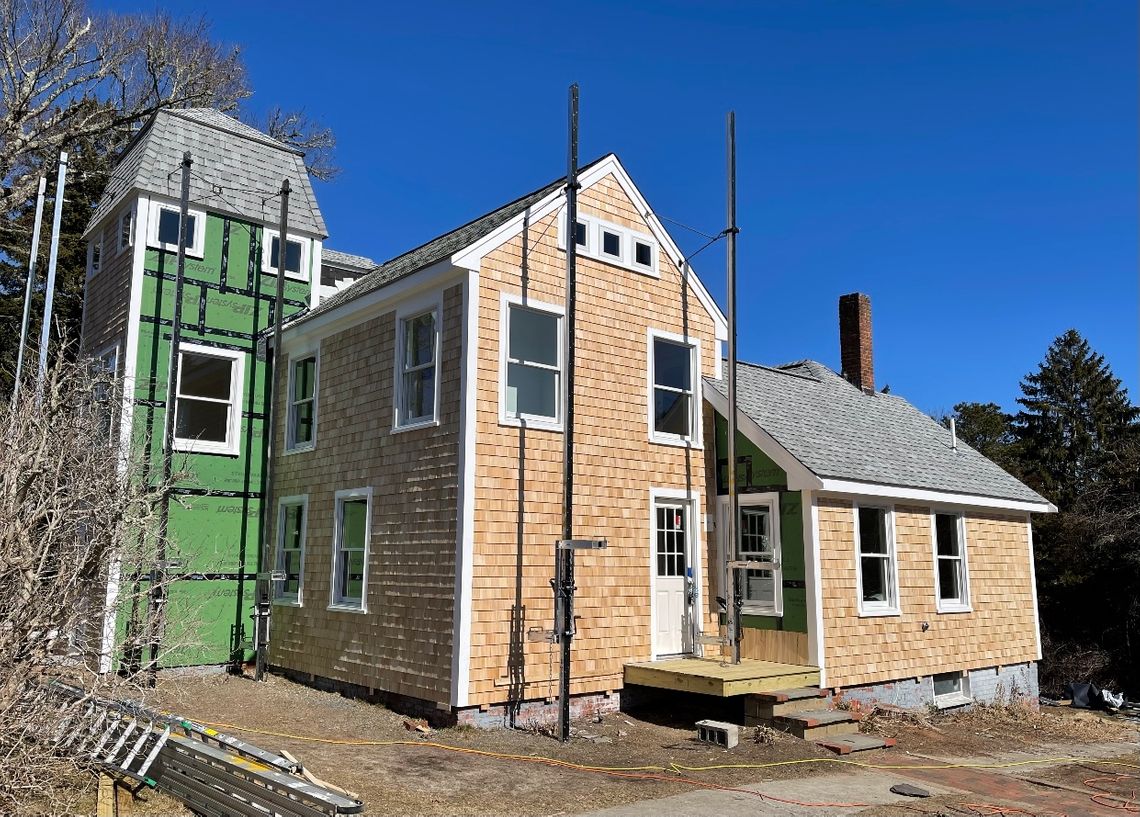 When considering a home addition, at Cape Property Pros we are frequently asked whether it is better to go "up" with a second floor addition, or go "out" with a ground floor addition.
There are few factors to consider before deciding between building up or building out. Here, you'll explore the advantages and disadvantages of each option. Compare the costs, so you can deside the best route for your home remodeling project.
When it comes to expanding the square footage of your home, you can expand your home's ground floor footprint. You can also add a full or partial second story to your home. However, it's important to understand what's involved when performing vertical and horizontal additions.
BUILDING UP
By building up, you can take your existing home to the next level (literally). It is a great solution for adding additional living space above one-story wings, like a garage, porch or sunroom.
ADVANTAGES OF BUILDING UP:
Building up is a great way to increase your home's square-footage and home value.
Since you're not expanding the footprint of the house, it eliminates the need to worry about zoning restrictions.
Another positive aspect of building up is you don't have to give up any of your yard to a new foundation for the addition.
Although there's no need to give up a portion of the yard to a new foundation for the addition, your contractor will likely have to expose and then beef up the existing foundation and wall structure under the new space to ensure that it can support the added weight.
DISADVANTAGES OF BUILDING UP:
To build up, you must completely remove the roof and rebuild it.
Adding a new story requires extensive architectural and structural engineering plans.
The first floor will need extra support beams added, and the foundation will need footings poured to carry the weight of the second story.
You have to incorporate a stairwell into the first floor somehow, which will take square footage from the first floor.
You will need to move out of the house while the remodel happens, putting furniture and personal items in storage. This can be very disruptive and long term.
When the work is complete, repairs to the walls and finishes of the first floor are usually needed.
Costs Associated with Building Up
Second story additions typically cost more because the existing roof must be completely removed and replaced and the first floor may need to have additional support structures installed in order to ensure the second story is solidly supported and connected to the first floor. Potential costs include:
Addition of a staircase
Additional structural supports, including footings
Architect and structural engineer
Plumbing, new HVAC
Building permits
Cost of rent or a hotel while the addition is being built
Removing and storing your personal items
Repairs to the first floor
Typical Second Story Additions
Attic Conversion
Dormer Addition
Second Story Addition
Over Garage Addition
Crafting or Hobby rooms
Master Suite
Standard Bedroom
BUILDING OUT
Building out to your home subtracts from the available space in your yard. However, if you don't utilize your backyard often, this may be a great option when you consider you'll have less grass and landscaping to maintain.
ADVANTAGES OF BUILDING OUT:
Building out typically involves the least disruption to the existing space — and to your life if you're living at home through the project.
With a single-story, ranch-style home, you have more options for different ceiling heights and skylights.
As far as maintenance and upkeep in the future, it will be easier to access and clean gutters, the roof, and outside walls.
It's also safer for families with young children and is more practical for those with mobility issues.
Also, if you're creating only a small addition, you may be able to do a bump out and avoid any foundation work whatsoever.
DISADVANTAGES OF BUILDING OUT:
Building out means losing some of your yard, and might even require a zoning variance from the town if you're within the legal property line "setback".
Building outwards increases the footprint of the home and will require more excavation to dig up the yard. Maneuvering around power lines and sewer lines could add to your costs as well.
You will lose some of your outdoor yard space.
You will need to excavate and pour new foundations. This can be quite devastating to existing landscaping, as well as costly.
You will need to open a wall of your existing home to connect the new addition.
Costs Associated with Building Out
Adding additional plumbing work
Permit fees
Pouring a new foundation
Upgrading HVAC
Typical Ground Level Additions
Kitchen expansions
Bathroom Additions
Home Office Addition
Family or Living Room
Garage Additions
In-Law suite
Laundry Room
Mud Room
Sunroom
Bump Out
IN SUMMARY:
The confusing issue is that the advice for new construction is the opposite of the advice for a remodel. Here's the bottom line: When building new construction, building up with a two-story home is cheaper than building out. When remodeling, building out with a one-story addition is cheaper than adding a second story to an existing dwelling.
OTHER QUESTIONS YOU MIGHT NEED TO ASK YOURSELF:
If this is my forever home, will stairs ever be an issue for me or my family?
Do I have room in my yard/lot to build out?
Are there required setbacks in my neighborhood?
SO WHICH OPTION IS THE BEST OPTION: BUILDING UP OR OUT?
Making the decision to build up or out will depend on your property size, your neighborhood's zoning laws and HOA requirements, the condition of your home, your specific needs and your budget. The good news is that we can help you determine which addition type is best for you and your family if you live in and around Cape Cod area. We offer complete design/build services that will help you understand what's involved in your home renovation, how long it will take and what you can expect to spend on your addition. Every home and situation is different, but we're happy to talk with you and discuss the best options to fit your budget.
To learn more about our home renovation, updating and addition services in Cape Cod, give us a call at 508-292-1562 or schedule a Free Consultation.