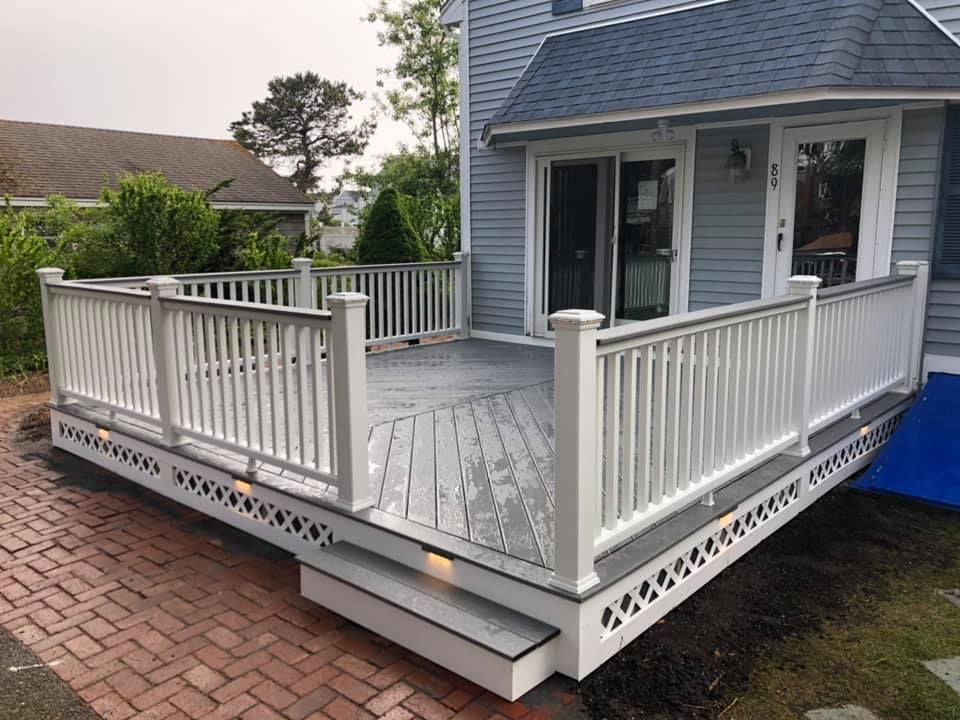 As you plan your dream deck, one of the key choices you face is what type of decking to use. Here is Cape Property Pros' advise on some factors to consider when comparing wood vs. composite decking.
You have two main categories of deck materials to choose from: natural wood or manmade (wood-plastic composites) products – but there are lots of options within each of these categories. The most popular wood products are treated lumber and cedar. Manmade deck material products include composites, PVC and vinyl from manufacturers such as Trex, Fiberon, Timber Tech and Azek.
Most decks use treated lumber for the framing, which is the structural part of the deck that you don't usually see unless you're underneath it. So the decision process usually involves only the materials that will make up the decking surface and railings.
Wood Decking Options
Probably the most difficult decision to make when building a wood deck is what type of decking to use. Many different wood species are available for use as decking and railing. Common options include cedar, redwood and pressure-treated pine lumber. For homeowners interested in exotic wood species, tropical hardwood decking options include tiger wood, ipe and mahogany.
Cedar Wood Deck – If the natural look of wood is tops on your list, use cedar for wood decking. Cedar doesn't readily absorb moisture— and, since moisture is what creates twisting and splitting, cedar wood decking tends to lie flat and straight. Lifespan of 15 to 20 years for cedar wood deck boards, but it can deteriorate faster when used for ground-level decks and for shaded decks that are slow to dry out.
Pressure-treated decking – If economy and longevity are your bag, go with pressure-treated wood. It's stainable, hard enough to resist abuse. But beware, not all treated woods are created equal. We suggest you buy "choice," "premium" or "select" treated boards. At about 40 percent more per linear foot, you'll pay more, but the boards have fewer knots and straighter grain. And, since many of the higher grade choices are kiln-dried both before and after pressure treatment, they have less tendency to warp.
Composite Wood Decking
If near-zero maintenance is your goal, buy composite wood decking. Invented in the late 1980s, wood-plastic composite decking (also called "composite wood decking") is made of wood fibers encased in plastic. Composite decking materials have low, mid and high quality varieties which correspond with cost. Quality affects the lifespan and durability of the product, as well as its resistance to fading and scratching. Before you choose a composite decking material, consider your lifestyle needs. Composite is scratch-resistant but it can still be scratched, so if you have pets, be sure to choose a scratch-resistant variety that can stand up to Fido's claws. The good news is that even if your deck does get scratched, you can easily sand the scratches out. It's more expensive than cedar for a wood deck, but once it's down, it won't rot, splinter or twist.
So what's the best outdoor decking material?
Weigh the pros and cons for wood deck material options to determine what will work best for your home.
Wood Vs. Composite Decking – The Pros & Cons
There are numerous factors to evaluate before making a decision so when evaluating wood vs. composite decking, here are key issues to consider:
People simply love the look and feel of wood for a variety of good reasons: aesthetic, tactile, and psychological. While early-generation composite decking tended to look artificial and plastic-y, some modern composites are available with a variegated appearance, and randomized embossed grain pattern so no two boards are alike. The result is composites that more closely resemble wood deck boards.
A key wood decking problem is that boards readily absorb water. Without the regular application of stains, sealers or paint, wood decking is susceptible to warping, splintering, cracking and rotting. In contrast, composite decking are fully moisture-resistant to the core, which allows them to be installed in high moisture conditions without decaying.
To extend the life of a wood deck, homeowners must regularly paint, stain or seal the decking to defend against moisture. Composites, on the other hand, only require sweeping or washing to keep the boards looking good.
Unlike most wood decking, composite decking is not prone to damage from termites and other wood-destroying insects.
While all-wood decking will eventually splinter, composite decking is made with small wood fibers encased in plastic, so it won't splinter. This is especially important for walking on the deck barefoot, and for children and pets, whose feet are sensitive.
Among wood decking's pros and cons, affordability is a decided benefit. Typically, wood decking is lower cost to purchase than composites, especially in the initial purchase. However, although the initial cost of wood is less, composite usually ends up paying for itself within 2-3 years when including the cost of annual maintenance. The price differential also depends on the wood species chosen versus the brand of composite decking, and local market conditions.
Both wood and composites are easy to cut and fasten using common tools most homeowners have. One area where composites come out ahead is they can more easily be bent (by heating them) to form curved deck sections
Wood decking has historically had an advantage over composites when it comes to summer weather, as composites can become uncomfortably hot in direct sun, give their density. If you're planning on walking on it with bare feet, choose a light color that will retain less heat, or a less dense material that won't reflect so much heat back. If your deck is in direct sunlight, then look for materials with higher UV protection, or consider covering it with a pergola or other overhang.
Understanding your budget, lifestyle and weather conditions will help you choose wisely.
If you're thinking of replacing an old wood deck with a new composite deck, or perhaps installing a deck for the first time, you can rely on Cape Property Pros, your local skilled deck builder. Our team has decades of experience building and designing decks throughout Cape Cod and the surrounding areas. Call us at (508) 292 1562 or contact us online and we'll visit your home for a free consultation and estimate.